Fan Arena has launched 3 EURO 20020 Fantasy Football games. The European Championships football is one of the biggest sporting events this year. Hardore fans and casuals are lining up to put their football knowledge to the test.
The next 4 weeks Fan Arena will be managing games for VRT Sporza (sports brand of the Belgian public broadcaster), DPG Media (biggest Belgian publisher) and Autodesk (American multinational and leader in 3D design, engineering and entertainment software).
The 3 games illustrate 3 different business cases for offering a fantasy sports game:
Increase fan engagement (VRT Sporza)
Generate revenue (DPG Media)
Create a digital employee experience (Autodesk)
Sporza EK Manager is free to play and thus all about increasing fan engagement. Sporza is the official tv rights holder and will be airing all games live.
Gouden EK is part of the Gouden Spelen fantasy sports franchise of publisher DPG Media, an example of how you can increase and diversify revenue streams. It costs 9 euros to enter a team and the overall winner takes home 5.000 euros in cash. DPG Media offers a boatload of prizes: scooters, beamers, bicycles, cash, etc.
Autodesk World Cup is all about creating an interactive experience for the Autodesk employees. Autodesk has offices and hubs all around the world and each year it organizes and flies in all employees for bonding experience during a five-a-side football tournament. Because of COVID-19, Autodesk had to postpone the event and decided to create a fantasy game to recreate that experience digitally. Next to a general ranking, there is a specific league ranking to see which team performs best, just as in the five-a-side tournament.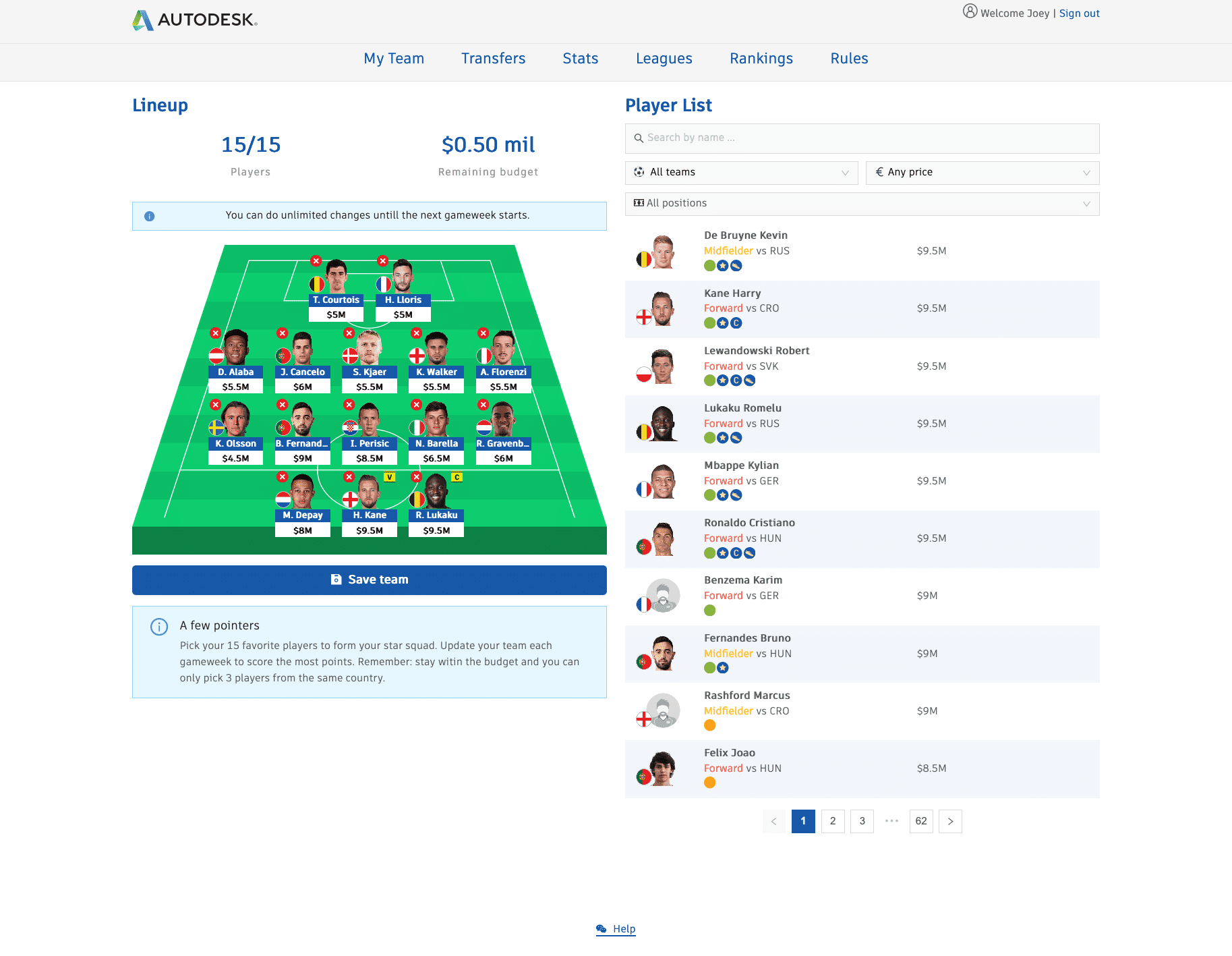 EURO 2020 Fantasy game concept
The premise of all three games is familiar to many: select 15 footballers participating in EURO 2020, stay within a budget and pick your starting 11 for each gameweek. During the live matches your players will earn points with scoring goals, giving assists, keeping a clean sheet and many more actions. In the case of Sporza EK Manager, people also pick one of the national coaches to score more points.
Before and after each gameweek you can change your captains, who score bonus points, substitute between your bench and starting 11 or transfer in new players. And of course you can compare your results in private leagues with family, friends and co-workers.
Additional tools
Fan Arena provides data tools to all clients so they can check out user data (signups, unpaid teams, private leagues etc.) and sports data (most picked players, best performers, most transferred etc.) as an inspiration to create enticing content. Users playing the games can ask game-related questions via the chat, which is managed by Fan Arena. The chat allows us to stay on top of things, and it avoids additional workload for our clients.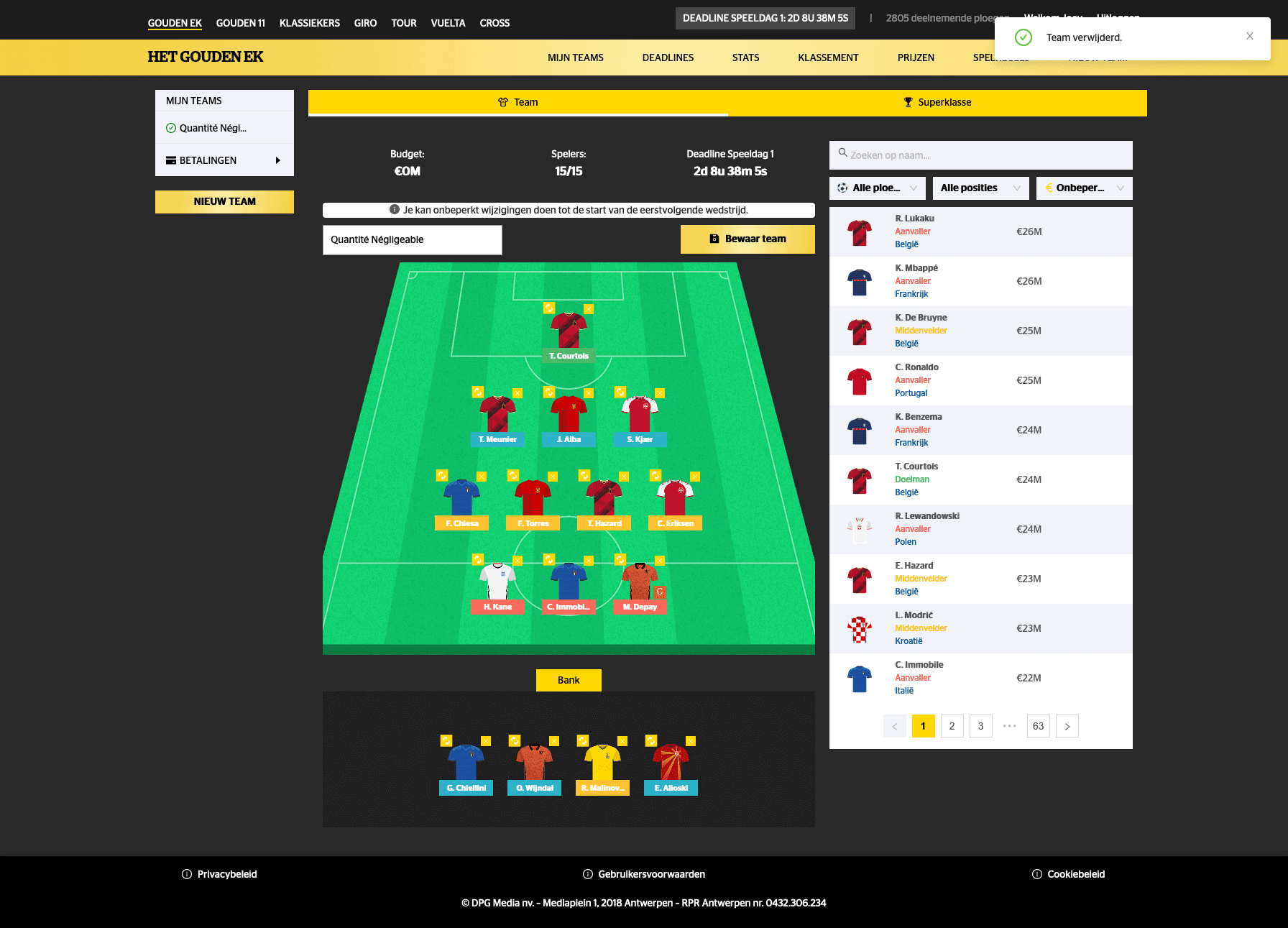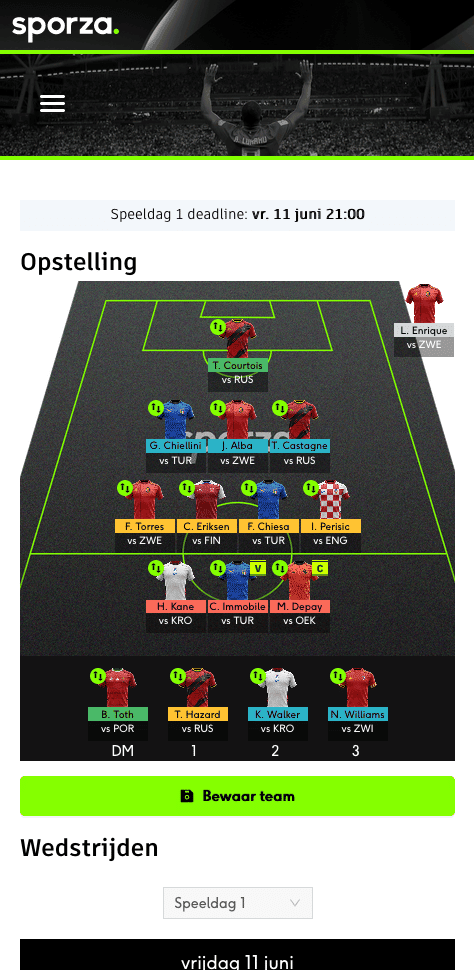 Game-Changing Fantasy Sports, Tailored Just for You