Fantasy Sports Employee Experience
Autodesk switches to Fantasy Sports as an employee engagement activity
Autodesk is an American multinational and leader in 3D design, engineering and entertainment software. With over 11,000 employees in offices and hubs worldwide, the company used to fly in all participants for an internal Autodesk football tournament. Due to the COVID-pandemic, that was no longer a possibility and Autodesk decided to offer a virtual football fantasy competition instead.
Autodesk and Fan Arena have devised a fantasy game mode that appeals to both football newbies, first time fantasy players and veterans. Of course it could not fully replace the real-life football tournament, but it is definitely the best alternative.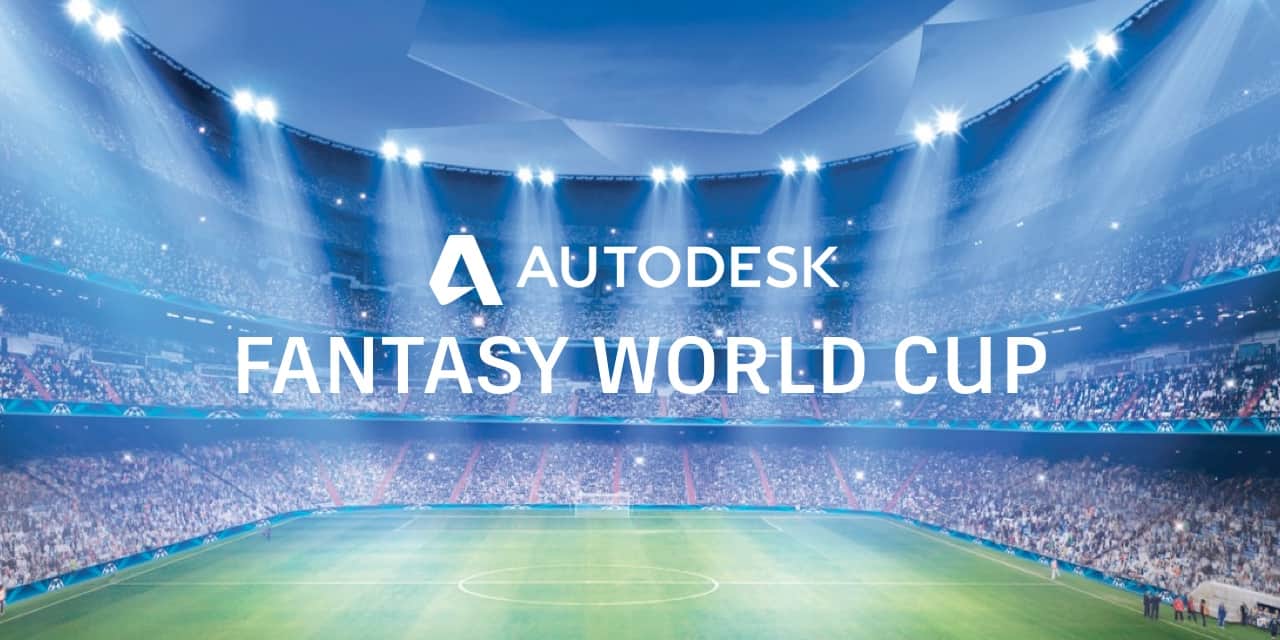 Since the early 2000s Autodesk offices and divisional teams meet up during a weekend in June or July to play football together and have a great bonding experience. Unfortunately the 2020 tournament had to be cancelled due to COVID-19.
Nevertheless the Autodesk staff reckoned that the 2021 Autodesk Football World Cup should go ahead, albeit in a virtual format. The online version should have the same low-barrier entry and cooperative aspect as the regular event.
Autodesk and Fan Arena came together to create a fantasy game for Euro 2020 (played in 2021), the quadrennial European Football Championship. All participants had to pick a 15 man fantasy roster and stay within a salary cap of $100 million. For each of the 6 gameweeks everyone had to field the best starting 11, designate a captain to score bonus points and do transfers if necessary. Goals, assists, playing time and many more actions were all awarded points.
The main goal of the fantasy game was to appeal to as many employees as possible. A classic fantasy game mode as described above very much does just that. It's easily understandable for novice players, and veterans or connoisseurs find joy in grabbing differentiators or undervalued players. In the player list Fan Arena added icons that indicate star players, set piece takers and the likelihood a player would be starting a match (and thus earn points). This additional information makes it even more understandable for first timers, or football novices.
Just as in the real-life football tournament, Autodeskers could join up and create a private league with up to 6 co-workers.
That gave us the opportunity to create an Autodesk League and Autodesk Organization ranking (eg. HR, Finance, Experience Design, Sales), next to a general ranking of individual players.
On a technical level the Autodesk SSO was implemented to let every employee log in with their existing company account. The existing Autodesk branding served as the base for the look and feel of the game.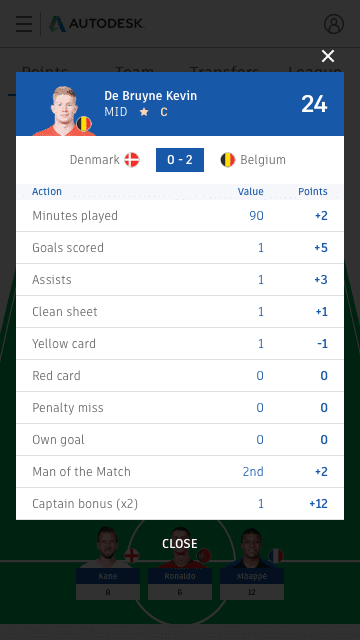 Classic Fantasy game mode, pick players and stay within the salary cap
Indicating the likelihood of playing, star players and set piece takers.
Pick a captain and vice-captain to score bonus points.
During and after the tournament we've received lots of positive feedback via the in-game support chat. The success of a fantasy sports game is usually determined by the communication and marketing tactics you deploy to onboard as many people as possible. Autodesk and Fan Arena worked together to create assets such as "How to Play?" and "League" guides and tips and tricks to build a great fantasy team.
There are already rumours going around of possibly doing this again next year for the 2022 World Cup in Qatar. That tournament will be the biggest sporting event of the year, and a truly global phenomenon.
"We were newbies to Fantasy Football and Fan Arena was a great partner in guiding us through the setup and making recommendations, so we could reach our goal to make this a fun and easy experience for our employees. Fan Arena gave us tips on how to promote this event, helped us create the assets, and was very flexible to meet our needs.

During the event, our employees had a lot of fun and although the virtual event couldn't replace the in-person experience, it also allowed more people to play and be part of the fun. Fan Arena was there throughout the tournament to support our users and us with all the questions we had. For us organizers, this was a huge value add.

The reach of this virtual game was of course very wide - so we are discussing hosting this again next year - we got great feedback from the players and 95% voted that they want to play again!

Konstanze Willbold

Program Manager - Autodesk