Eredivisie Fantasy Sports
FFF Manager offers a freemium Fantasy Football game to all Dutch fans
Five Football Friends (FFF) is a Dutch startup, founded by five friends: Mario, Leon, Jesper, Tim and Robin. Their goal is to create a community that generates more value and money for amateur football clubs. FFF organizes events and aims to bring back the unique amateur football experience with the FFF Manager fantasy game.
FFF Manager is a free-to-play fantasy football game for the Dutch Eredivisie. Each fan must pick his or her favourite amateur club. Fans can upgrade to a paid subscription to get more out of the game and send a kickback to their favourite amateur club. Cash prizes are given to each round winner, and to the club he or she supports.
Running an amateur football club is becoming increasingly difficult. Membership is declining and less people are signing up to become a volunteer, which means canteen revenue is plummeting, the business club is underperforming and contribution slows down. But Five Football Friends is doing something about this. FFF wants to become a platform for amateur clubs on which they can increase revenue via all sorts of partnerships and services.
The first FFF Manager season (2019/20) everyone had to pay an entry fee, which included a kickback to amateur clubs. But to keep the threshold as low as possible, a free-to-play game was way more interesting to onboard as many people as possible.
Gambling in the Netherlands is very strictly regulated by the Dutch Gaming Authority. Although fantasy sports is not gambling, FFF didn't want to take any chances and follow the code of conduct rigorously.
FFF Manager started as a paid classic fantasy football game, very similar to the salary cap game concept of the popular Fantasy Premier League. In FFF Manager you have a budget of €110 million to pick 11 players and one coach. There is no bench and there are no transfers. Every week you edit your lineup freely.
Since the 2021/22 season FFF Manager is using a freemium model. That means that everyone creates a team for free. Those who want to enhance their experience with additional features buy one of the premium packages. Both free and paid subscribers have the equal opportunity to win the cash prizes. A part of the premium fee is sent to the amateur clubs.
FFF created three tiers:
1. Fan (free)
Your unique FFF team in a 4-3-3 or 4-4-2 formation
Check all rankings
Earn bonus points with the triple captain booster
Check other teams after the deadline
2. Technical Director (paid)
Additional advantages:
Participate and create private leagues
Check other teams before the deadline
Advanced statistics
Player availability: injuries and suspensions
3. Sheikh (paid)
Additional advantages:
More formations: 3-4-3, 3-5-2, 4-2-4 and 5-3-2
Block your team from spies
Substitute players who didn't play yet after the gameweek deadline
The Eredivisie season consists of 34 gameweeks. FFF Manager merged some of them into double gameweeks to not risk any fines or other troubles with the Dutch Gaming Authority. The code of conduct stipulates that a maximum of 20 draws per game may be made. As a result, FFF decided to have a calendar of 17 gameweeks.
All round winners receive a cheque of €200, and their favourite amateur club receives the same amount when at least 50 people of the club have an FFF account. In the general ranking the top ten is awarded at the end of the season.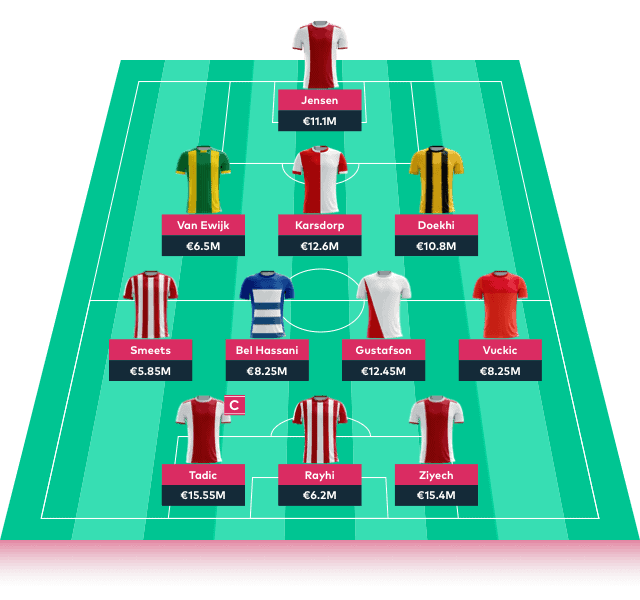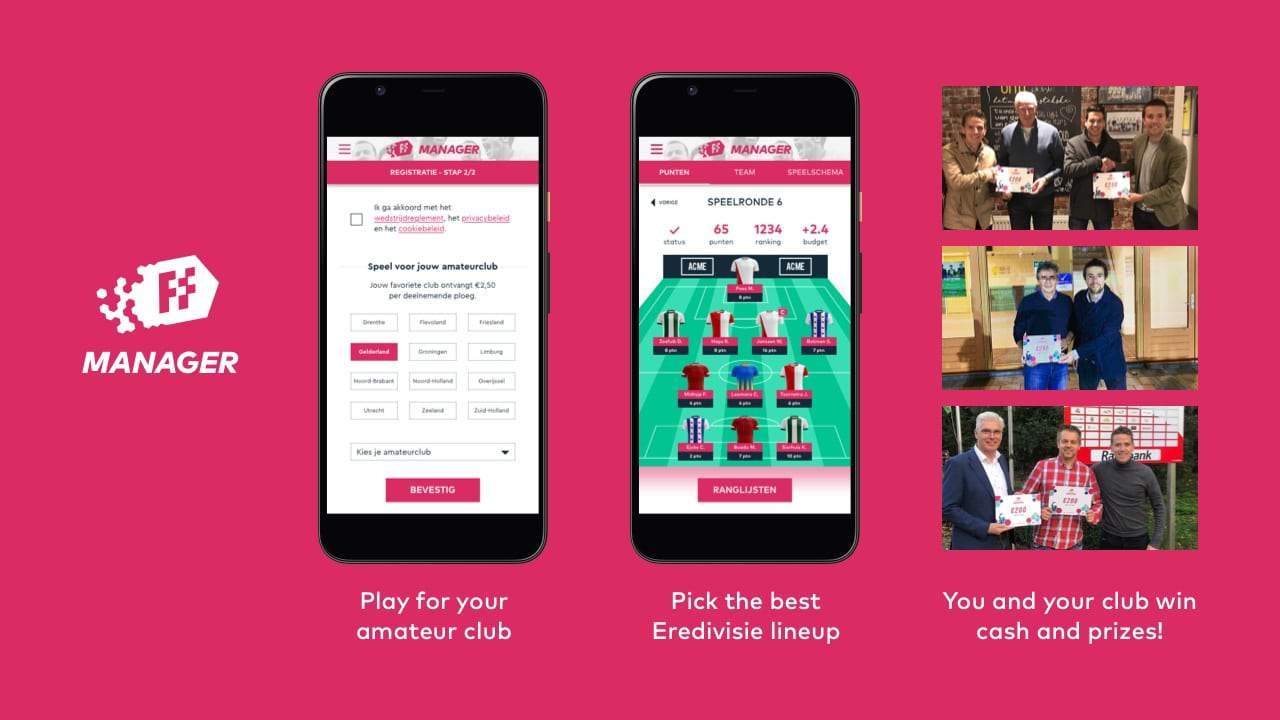 FFF and Fan Arena have been working together for a couple of years. FFF is a great example of a startup with a clear goal in mind. Fantasy sports is a driver of engagement and a starting point for building a community.
FFF Manager is growing exponentially each season. Together with Fan Arena the goal is to build the biggest Fantasy Eredivisie game in the Netherlands.
"We had a long search to find the right partner for our fantasy game. Fan Arena has a great mix of experience and flexibility. Step by step we can keep improving.

Jesper Gudde

Co-Founder - Five Football Friends